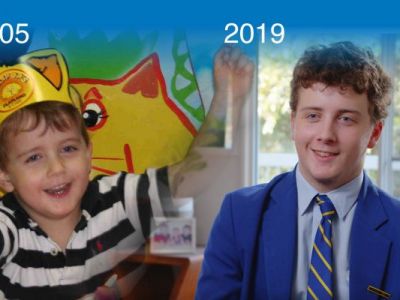 To watch our video with three of AEIOU's first graduates, click here.
With humble beginnings in 2005, our first centre was based in a character-filled old church in the Brisbane suburb of Moorooka. There were 12 children enrolled, and six therapists and educators to support them to reach their goals. After their children's graduation from AEIOU, many of these families have stayed in touch and remain great supporters of AEIOU Foundation.
Nearly 15 years since AEIOU Foundation first opened its doors, we look back on where our graduates from the first class of 2005 are now. In 2019, these children are approaching adulthood and a graduation of a different kind: leaving high school.
Oliver Harris, now 17, can remember when he started at AEIOU at age three and the lifelong friendships he made there. Oliver has enjoyed a number of senior year highlights already this year. These include his school's senior badge ceremony, attending his school formal and being part of the MATES Ministry Program, which includes a weekly barbecue with the homeless in West End. Oliver is also a talented and passionate artist and plans to study graphic art when he finishes school.
Sheridan Buckley was three when she was diagnosed with autism, and her parents had no idea what to expect. Would Sheridan's autism remain severe? Would it get worse? Could things improve? These are all questions they asked themselves. But Sheridan flourished at AEIOU and, now in Year 12, she and her family can be very proud of Sheridan's work ethic and her varied interests (including bird watching, hiking and sewing), and are grateful for the enormous support they have received from the school.
Joey DePasquale was the first of the original cohort to graduate from AEIOU Foundation and remembers learning to ride a bike at AEIOU. Fast forward to 2019 and this confident and articulate 18-year-old has a new sense of independence in his sights, having already spent more than 60 hours behind the wheel in preparing to sit for his provisional driver's licence. At school, Joey is already studying a Diploma of Business through his school and he plans to attend university, with his heart set on eventually taking over the family business in food service distribution. Joey is also a talented rugby union player who had the opportunity to travel to Europe last year as part of a school tour.
Before AEIOU, there was little support for children with autism in Australia. AEIOU was founded in 2005 by James and Louise Morton, two parents who had seen the powerful impact of early intervention for their son Andrew. Andrew Morton was two years old when he was diagnosed, and he and his family were experiencing significant challenges on a daily basis. After gaining access to a pilot early intervention program, their world changed. But when this pilot program closed, never to be re-opened, James and Louise Morton knew something had to be done to help Andrew and other children with autism to reach their full potential. Out of this desire for a brighter future, AEIOU was born. Nearly 15 years after our first centre officially opened, AEIOU is both proud and honoured to have been a part of so many families' journeys with ASD and to give them hope for a future full of possibilities for their children.