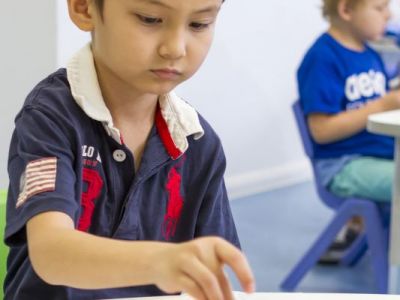 Help! There's more veggies in my child's shampoo than on his plate!
Navigating the world of mealtimes for children on the autism spectrum can be fun and messy for some, but complex and frustrating for others.
Feeding problems encompass a variety of behaviours that include food refusal and selectivity, inadequate food intake, self-feeding skill deficits, disruptive mealtime behaviours, and inappropriate rate of consumption. Rumination and vomiting are also commonly reported issues.
When presented with a mealtime challenge in the home environment, the following are the key areas we work on at AEIOU.
Independence
Considerations around selecting appropriate mealtime goals is largely determined by the next steps in your child's development. For instance, if your child is moving to a new education setting next year, we would recommend working on your child's ability to independently manage a mealtime routine. This could involve getting his lunch box independently, independent consumption of food, and packing away after mealtime.
In the home environment, an appropriate goal for your child would be sitting at the table with siblings/ adults, leaving the table only when the meal is completed, and independent feeding of self. These goals are best supported by a therapy team, who can provide appropriate strategies for your child's individual goals.
KEY: establishing a clear routine and expectation during mealtimes.
Increase in variety
When dealing with fussy or selective eating, there's a range of potential barriers that would first have to addressed through additional assessments. This could include medical or oral motor assessments and specialised programming by a trained professional.
When trialling a new food, there are a few options to consider before determining which food to pick. Some parents prefer a food that is commonly served at the dinner table, some parents like to include a food group that is missing from their child's diet, while others would like to include foods that are accessible for family outings or holidays.
KEY: It can get hard, BUT stick with it!
Think of the last time you did a new exercise at the gym; it was hard and uncomfortable but you persisted and conquered it after a period of time. There was an internal motivation to get to your goal.
For our children, unfortunately there is little or no internal motivation for them to consume new foods. Hence, at AEIOU, we establish a strong external motivator before trailing any new foods. If your child is a picky eater at mealtimes, consider doing new food trials outside of mealtimes to ensure that your child still enjoys his/her set mealtimes. Speak to your therapy team for more ideas and support.
Golden rule: no motivator = no new food
Strategies around the introduction of new food are entirely dependent on the rapport, trust, learning style, expectation and motivation. Our therapy team who works closely with your child would be able to support you through the process!
About the author:
Joanne Stephen is a Senior Speech Pathologist and Program Coordinator at AEIOU Foundation. With over eight years of autism-specific experience, Jo specialises in language therapy, articulation therapy, mealtimes management, and behaviour management. She is driven to provide training and support to therapists at AEIOU foundation and within the broader community and implement intervention based on the science of behavioural analysis and provide education on the effective outcomes this approach facilitates.
Tags: AEIOU, Mealtimes, Autism,
Related Articles