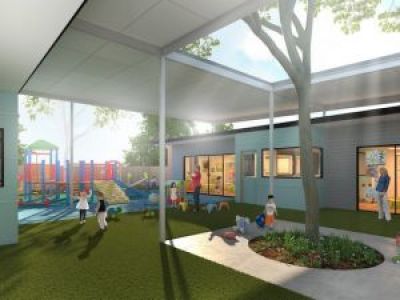 The below article appeared on Property Observer online here.
The first sod at South Australia's King George Avenue site in North Brighton has been turned to create the state's largest disability precinct.
A partnership between Minda, a non-government disability support organisation, and the AEIOU Foundation for children with autism.
The $2.3 million AEIOU centre, is funded by a $891,000 grant received through the National Stronger Regions Fund (NSRF) and donation of land by Minda under a long-term lease.
When built, the 720m2 purpose-built centre will feature four classrooms, therapy rooms, a motor skills room, parents' retreat, and 160m2 roofed outdoor play facilities.
Stage 2 of the development will include 11 single-story group dwellings, four single-storey residential flat buildings, and two three-storey residential flat buildings as replacement accommodation for people Minda support.
A lifestyle precinct will be built with four buildings offering medical suites, day programs, child care and recreational facilities.
Alan Smith, chief executive officer said the precinct will respond to calls by South Australian families for greater access to vital early intervention, in order to create positive lifelong outcomes.
"With 1 in 100 children diagnosed with autism, the clock is ticking on the short-term development window where we know a true permanent difference can be made," he said.
"Since opening our first AEIOU centre in Adelaide in 2014, we have provided affordable and effective autism early intervention to more than 40 South Australian families.
"Our new centrally located Brighton centre will ensure even more children will have access to life-changing early intervention programs each year and receive the ongoing support they need.
"AEIOU sincerely thanks the National Stronger Regions Fund (NSRF) for its significant financial contribution to this project, and to disability support partner Minda for their generous donation of the parcel of land on which we will be located."
Cathy Miller, chief executive officer, Minda, welcomed the start of construction of the AEIOU Centre and Stage 2 of its broader $160m+ Master Plan development.
"Minda's Master Plan aims to create a vibrant community hub that offers leading edge accommodation and support for South Australians of all ages with disability, and we are pleased to align with AEIOU Foundation because it shares very similar values and opens up the prospect of future collaboration in areas such as research, training and development," Ms Miller said.
"With the introduction of the National Disability Insurance Scheme it is now more critical than ever to establish partnerships with other sector-leading organisations like AEIOU to complement our own support model, and ensure that South Australians and their families receive whole-of-life support over time if they need," she said.
AEIOU Foundation's centre is expected to be complete in late 2017, with Stage 2 of Minda's Master Plan expected to take about 18 months.