Connor Whelan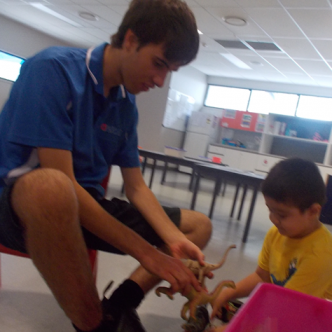 Volunteer at AEIOU Nathan

Connor Whelan joined Nathan at the end of last year to volunteer his time. What makes Connor unique is that he has ASD. Connor joins the team two days per week and is enjoying getting to know the staff and children within the centre. The Nathan team enjoys working with Connor and values his support in the classroom. We are thrilled to be able to work with and offer professional development to young people like Connor.
Connor was initially encouraged to volunteer by his parents, who approached the Foundation. The staff at AEIOU Nathan centre say he is just fantastic to work with, and he loves working with the children especially during 'circle time' (when the children engage in play based learning activities) and outdoor play time. Connor says he loves working with the children and supporting them in the program.
In Focus
From The Blog
29th Aug. 2019
Happy Speech Pathology Week 2019! Experience a day in the life of an AEIOU...
From The Media Releases
12th Aug. 2019
AEIOU Foundation fully supports the Royal Commission into Violence, Abuse,...