NDIS for QLD families
The Commonwealth and Queensland governments signed a Bilateral Agreement for the roll out the National Disability Insurance Scheme (NDIS) in Queensland, where eligible people with disability started accessing funded supports in July 2016.
Queensland's transition dates and corresponding geographical locations are illustrated in the below NDIS diagram: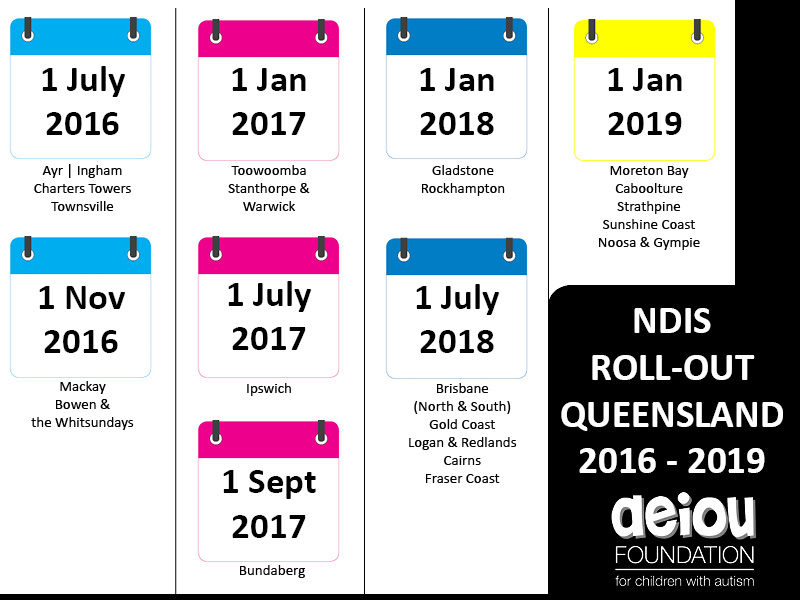 In preparation, AEIOU current and prospective families are encouraged to prepare for the upcoming transition.
See the links below for further useful information:
AEIOU Foundation Workshop Series: Preparing for the NDIS
The National Disability Insurance Scheme (NDIS) has been described as a generational change to the way Australia supports people with a disability. At AEIOU Foundation, we recognise the impact this will have on you and your family. The Queensland roll out is underway and, on 1 July 2017, Camira families living in the Ipswich region will start to transition to this new scheme.
These FREE workshops will guide you through the NDIS process. Our series of four half-hour workshops is designed to take the stress out of this transition period, and help you achieve the best outcome for your child and your family.
For information on our workshop schedule, please contact our NDIS Support Coordinator Katrina Ives on 0418 790 277 or email katrina.ives@aeiou.org.au
In Focus
From The Blog
03rd Oct. 2017
Everyone likes to be acknowledged and reciprocal appreciation is part and...
From The Blog
13th Sep. 2017
Recognising the unique stories shared by men who support people with autism,...